Cocoon PFO Occluder
Posted on November 06,2013 Cocoon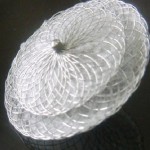 The Cocoon PFO Occluder is a percutaneous transcatheter closure device intended for the occlusion of all types of PFO's i.e. classical as well as those with aneurysm of the septum, in patients with a history of stroke or transient ischemic attacks (TIAs) diagnosed by echo-cardiography with right to left shunting during Valsalva procedure.
The Cocoon PFO Occluder is a self expandable double disk device made from a Nitinol wire mesh coated with Platinum. The two discs are linked together by a short connecting waist allowing free motion of each disc.  In order to increase the closing ability, the discs are filled with polypropylene fabric.  The fabric is securely sewn to each disc by a polyster thread.
Main Features
Nano Platinum coating provides superior bio-compatible properties compared to bare nitinol.
Prevents Nickel leaching into the blood stream.
Prevents corrosion of Nitinol wire frame in long term implants.
Platinum provides better radioopacity which enables easy positioning of the device in the defect.
Cocoon PFO Occluder Accessory Set
Cocoon Septal Occluder Accessory set consists of
Delivery Sheath with hemostasis valve adapter – used to deliver the device.
Dilator – used to ease penetration of tissue
Loader – used to introduce the Cocoon PFO Occluder into the delivery sheath.
Delivery cable – The device is screwed onto the distal tip of the delivery cable, which allows for placement and retrieval of the device.
The delivery cable is packed separately from the other accessories.  The delivery cable can be used with Cocoon Duct and Septal occluders.  The Cocoon PFO Occluder Accessory set is available in 8F and 9F sizes.