Cocoon Duct Occluder
Posted on October 15,2013 Cocoon
The Cocoon Duct Occluder is used in the transcatheter closure of patent ductus arteriosus.  It is made from Nitinol wires coated with platinum using nano fusion technology.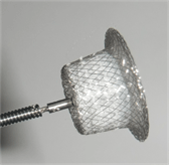 Main Features
Nano Platinum coating provides superior bio-compatible properties compared to bare nitinol.
Prevents Nickel leaching into the blood stream.
Prevents corrosion of Nitinol wire frame in long term implants.
Platinum provides better radioopacity which enables easy positioning of the device in the defect.
Cocoon Duct Occluder Accessory Set
Cocoon Duct Occluder Accessory set consists of
Delivery Sheath with hemostasis valve adapter – used to deliver the device.
Dilator – used to ease penetration of tissue
Loader – used to introduce the Cocoon Duct Occluder into the delivery sheath.
Delivery cable – The device is screwed onto the distal tip of the delivery cable, which allows for placement and retrieval of the device.
The delivery cable is packed seperately from the other accessories.  The 6 French (CDC6F) delivery cable can be used with Cocoon Septal and PFO occluders.  A smaller delivery cable, 5 French is available for the Cocoon Duct occluders. This cable is normally used in infants. The Cocoon Duct Occluder Accessory set is available in 6F, 7F, 8F, 9F and 10F sizes.